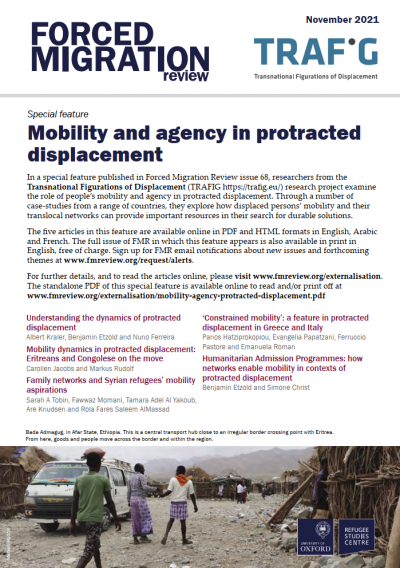 Available in English, French and Arabic
The latest issue of the Forced Migration Review includes a special feature on mobility and agency for those living in protracted displacement, produced in collaboration with the TRAFIG project. Read more
Understanding the dynamics of protracted displacement
Mobility dynamics in protracted displacement: Eritreans and Congolese on the move
Family networks and Syrian refugees' mobility aspirations
'Constrained mobility': a feature in protracted displacement in Greece and Italy
Humanitarian Admission Programmes: how networks enable mobility in contexts of protracted displacement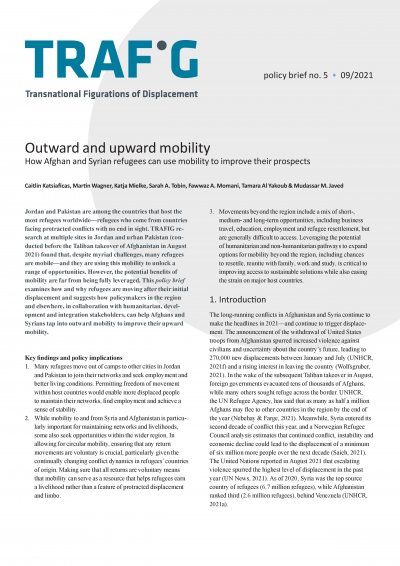 Outward and upward mobility
How Afghan and Syrian refugees can use mobility to improve their prospects
Jordan and Pakistan are among the countries that host the most refugees worldwide—refugees who come from countries facing protracted conflicts with no end in sight. TRAFIG research at multiple sites in Jordan and urban Pakistan (conducted before the Taliban takeover of Afghanistan in August 2021) found that, despite myriad challenges, many refugees are mobile—and they are using this mobility to unlock a range of opportunities. However, the potential benefits of mobility are far from being fully leveraged.
This policy brief examines how and why refugees are moving after their initial displacement and suggests how policymakers in the region and elsewhere, in collaboration with... Read more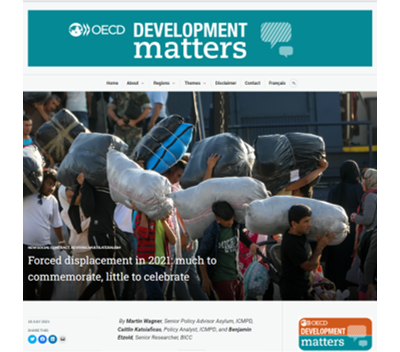 Published in the OECD Blog series 'Development matters'
It is primarily the responsibility of states to provide durable solutions to people in protracted displacement. A state-centred approach, however, risk underestimating or even disregarding the ambitions and capacities of displaced people themselves. In a contribution to the OECD blog series 'Development matters' Martin Wagner and Caitlin Katsiaficas (both ICMPD) and Benjamin Etzold (BICC) present some insights on TRAFIG research on the mobility of displaced people in the Middle East and East Africa and the role of networks in their everyday lives. They conclude that many refugees rely first and foremost on their own human, social and financial capital to build a more secure future.
Find the article here: Forced displaceme... Read more
The Political Economy of Protracted Displacement
Took place on 24 jun 2021 10:00 – 11:30, Organised by Bergen Global
Panel: Morten Bøås (NUPI), Tewodros Kebede (Fafo), Synnøve Bendixsen (UiB) and Sarah Tobin (CMI) in conversation with Benjamin Etzold (BICC).
In this webinar a panel of leading migration researchers gathered to discuss the concept of protractedness in relation to displacement. The discussion of protractedness looks to material and structural conditions shaping different actors' experiences and perspectives of protractedness.
Benjamin Etzold, BICC, scientific coordinator of TRAFIG, discussed six central arguments around the notion of protracted displacement. Sarah Tobin, CMI, presented key findings from TRAFIG research in Jordan on how Syrian refugees' connecti... Read more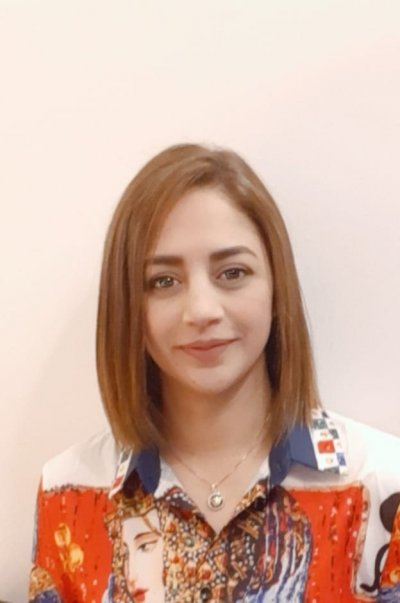 Meet Rola Faris Al-Massad - a member of the TRAFIG research team at Yarmouk University, Jordan - and find out more about her experience, her motivation and her work in the TRAFIG project.
I am Rola Faris Al-Massad, a Ph.D student in Psychological Counseling at the Faculty of Education at Yarmouk University. My academic journey started after 13 years of discontinuity - I was lucky and started to study Psychological Counseling in 2012. I found it difficult, but I persisted, and eventually, I finished my Bachelor's degree with a very good grade and then continued studying for my MA degree in the same specialty at the same university and faculty. In 2018, I joined the International Assembly of Peace to represent Jordan for one round, and I participated in an international conference that... Read more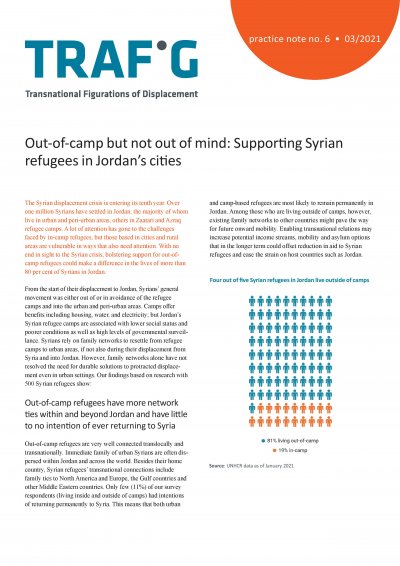 Out-of-camp but not out of mind
Supporting Syrian refugees in Jordan's cities
Available in English and Arabic
The Syrian displacement crisis is entering its tenth year. Over one million Syrians have settled in Jordan, the majority of whom live in urban and peri-urban areas, others in Zaatari and Azraq refugee camps. A lot of attention has gone to the challenges faced by in-camp refugees, but those based in cities and rural areas are vulnerable in ways that also need attention. With no end in sight to the Syrian crisis, this practice note illustrates why bolstering support for out-of camp refugees could make a difference in the lives of more than 80 per cent of Syrians in Jordan.
Four out of five Syrian refugees in Jordan live outside of camps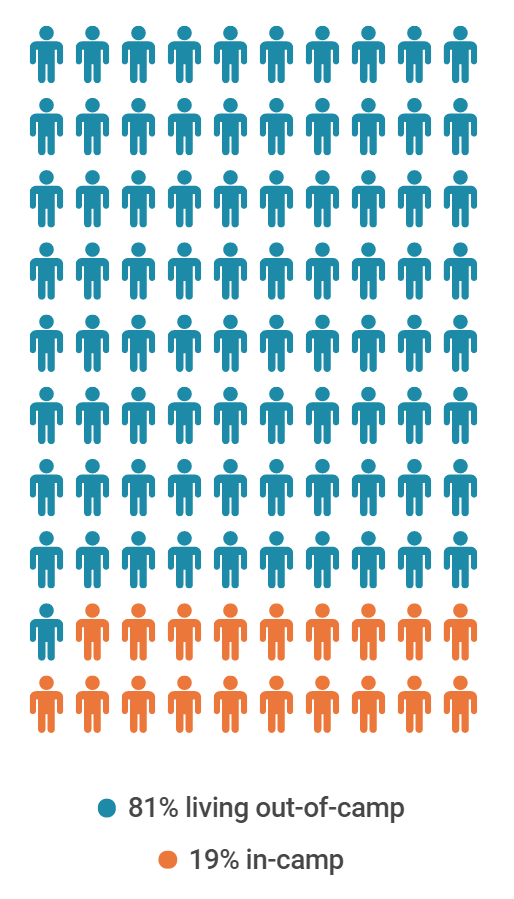 Authors: Elvan Isikozlu, Sarah T... Read more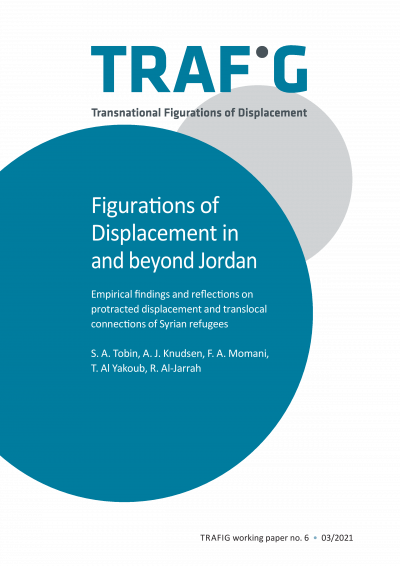 Figurations of Displacement in and beyond Jordan
Empirical findings and reflections on protracted displacement and translocal connections of Syrian refugees
This working paper is based on the empirical research on translocal figurations of displacement of Syrians in Jordan. It contains methodological discussions, central findings and reflections on these findings. Drawing on the conceptual framework of the TRAFIG project, this paper explores the central research question of TRAFIG, namely "How are protractedness, dependen cy, and vulnerability related to the factors of local and translocal connectivity and mobility, and in turn, how can connectivity and mobility be utilized to enhance the self-reliance and strengthen the resilience of displaced people?" The paper presents findings... Read more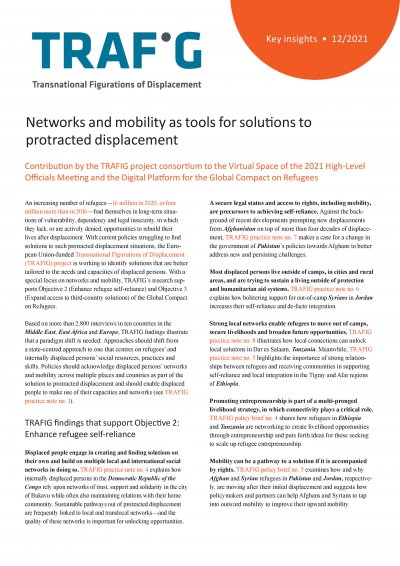 Contribution by the TRAFIG project consortium to the Virtual Space of the 2021 High-Level Officials Meeting and the Digital Platform for the Global Compact on Refugees
An increasing number of refugees – 16 million in 2020, or 4 million more than in 2016 – find themselves in long-term situations of vulnerability, dependency and legal insecurity, in which they lack, or are actively denied, opportunities to rebuild their lives after displacement. With current policies struggling to find solutions to such protracted displacement situations, TRAFIG is working to identify solutions that are better tailored to the needs and capacities of displaced persons. With a special focus on networks and mobility, TRAFIG's research supports Objective 2 (Enhance refugee self-reliance) and Objective 3 (... Read more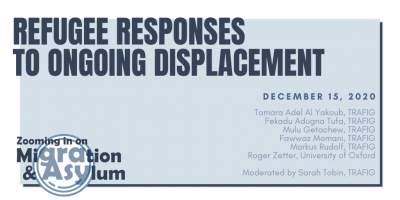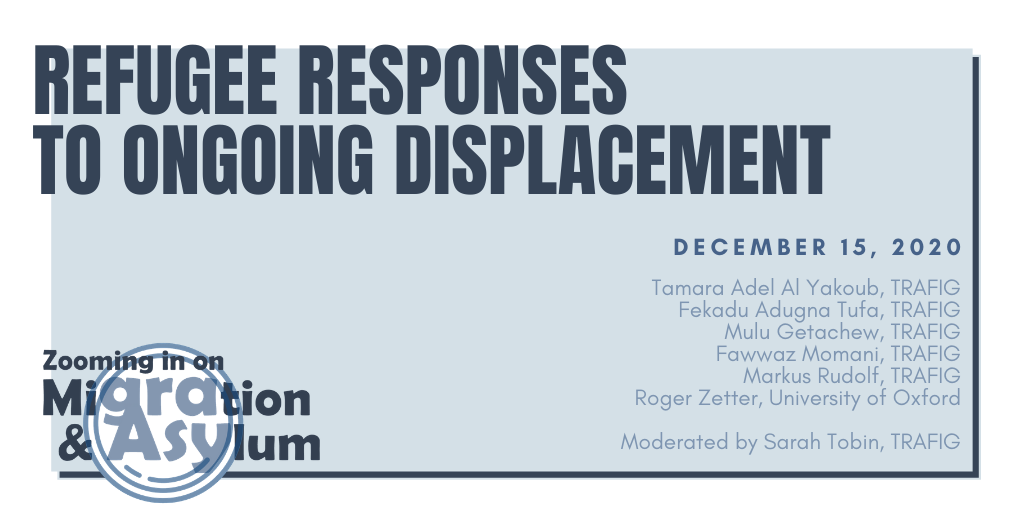 15 December 2020, 13:00 - 14:30 CET
With continued record levels of displacement across the globe, solutions in the true sense of the word remain elusive for many. This webinar will explore different strategies that refugees and IDPs are using to respond to displacement-related challenges. Speakers will highlight examples of solutions found by those who are displaced themselves, based on field research in Ethiopia and Jordan. These often go beyond those commonly recognised, including strategies related to TRAFIG's themes of connectivity and mobility. Speakers will also examine the global need for durable solutions and check in on the Global Compacts two years after their signing.
Facilitator: Transnational Figurations of Displacement (TRAFIG)
Framing remarks Read more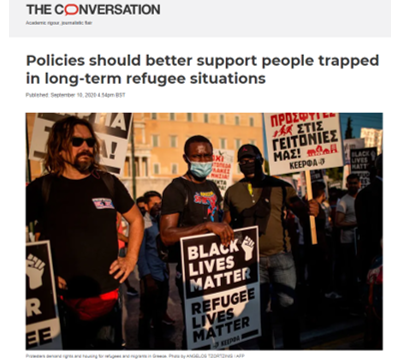 Policies should better support people trapped in long-term refugee situations
In The Conversation, Carolien Jacobs (Leiden Unviersity), Nuno Ferreira (University of Sussex), Emanuela Roman (FIERI) and Benjamin Etzold (BICC) plead for urgently needed policy changes that focus on displaced people's actual needs and the realisation of truly durable solutions. The short article is based on our insights from TRAFIG Working Paper 3.
Read the blog contribution here.
Webinar: Corona-prevention and Syrian Refugees in Jordan
Webinar, University of Bergen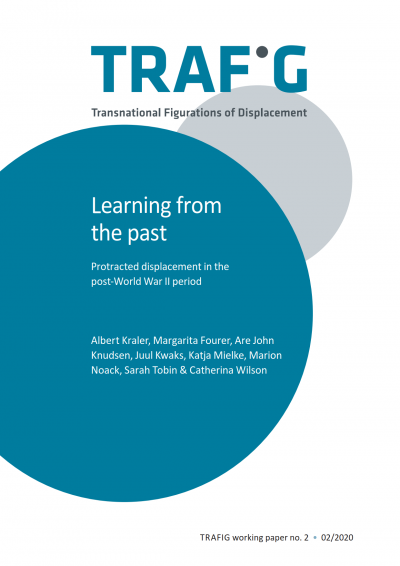 Learning from the past
Protracted displacement in the post-World War II period
This working paper examines the history of the search for solutions to protracted displacement. Focusing specifically on the Horn of Africa, East Africa, the Middle East and South Asia, the paper analyses past policy responses that explicitly or implicitly address situations of extended exile. In addition, the paper examines the potential of translocal mobility and connectivity as an individual- or household-level solution to displacement.
The concern to find solutions for long-term displacement situations has been a key driver for the evolution of the international refugee protection regime ever since its initiation in the interwar period. Yet, only more recently have these efforts crystallised around... Read more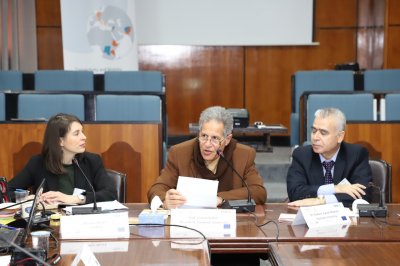 On 9th of February 2020, the first interactive TRAFIG stakeholder workshop took place in Irbid, Jordan. It kicked off a series of events in the TRAFIG focus countries. This first workshop aimed at discussing viable policy options and good practices and thereby supporting the identification of possible solutions to protracted displacement. Organised by Yarmouk University in cooperation with BICC, CMI and ICMPD, it further built on the preliminary research results of the TRAFIG project. The workshop participants were invited to contribute to the analysis of these results.
At the opening of the workshop, the vice-president for administrative affairs of Yarmouk University, Prof. Anis Khasawneh, addressed in his welcome remarks the significance of the Syrian crisis for Jordan as a major hos... Read more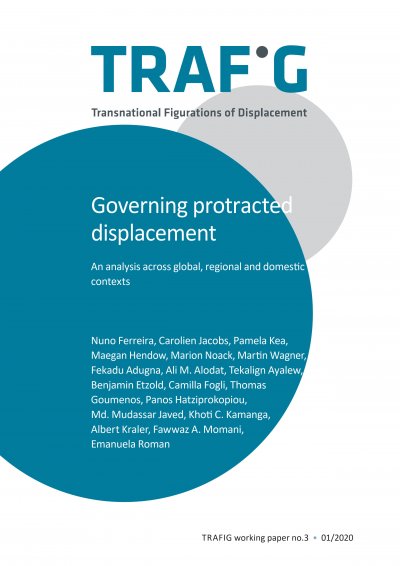 Governing protracted displacement
An analysis across global, regional and domestic contexts
This working paper explores the governance of protracted displacement across global, regional and domestic levels in the context of the project "Transnational Figurations of Displacement" (TRAFIG). The multiple contemporary crises that have led to forced displacement show not only the limits of a tight definition of 'refugee', but also highlight the gaps in international protection frameworks. A significant number of those forcibly displaced are in protracted displacement situations.
This paper is an effort to make sense of the legislative and policy frameworks of protection that apply globally, regionally and domestically, and the way in which these frameworks facilitate or hinder solutions... Read more
---