#6: Refugee responses to ongoing displacement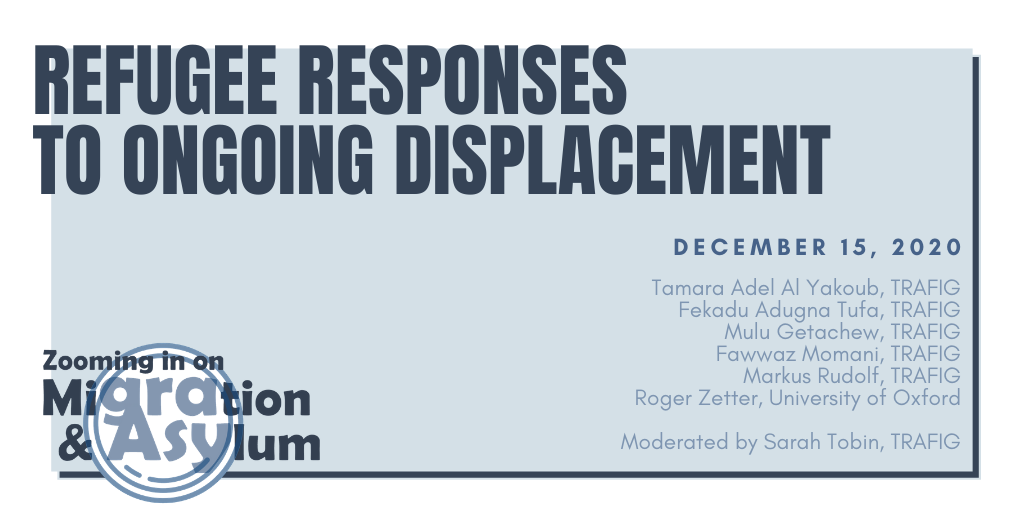 15 December 2020, 13:00 - 14:30 CET
With continued record levels of displacement across the globe, solutions in the true sense of the word remain elusive for many. This webinar will explore different strategies that refugees and IDPs are using to respond to displacement-related challenges. Speakers will highlight examples of solutions found by those who are displaced themselves, based on field research in Ethiopia and Jordan. These often go beyond those commonly recognised, including strategies related to TRAFIG's themes of connectivity and mobility. Speakers will also examine the global need for durable solutions and check in on the Global Compacts two years after their signing.
Facilitator: Transnational Figurations of Displacement (TRAFIG)
Framing remarks
Findings: Refugee responses in Ethiopia
Findings: Refugee responses in Jordan
Moderator:
You can register for the webinar here.
Livestream and recordings
All webinars will be livestreamed via YouTube. Follow the TRAFIG YouTube channel for all past recordings and upcoming livestreams of Zooming in on Migration and Asylum.