Tool #3: Advocating for Refugees - the Game
Advocating for Urban Refugees - The DIGNITY Kwanza Method
The DIGNITY Kwanza Method is an online, interactive story-based simulation. It is freely accessible at http://www.dignitykwanza.org.
The simulation game asks users to play the role of DIGNITY Kwanza, a refugee advocacy NGO based in Dar Es Salaam (Tanzania). The 'players' must critically reflect on the experiences of three fictional Congolese refugees who find themselves in a situation of limbo, namely because they don't have a legal status to live in the city. How can they navigate through the challenges they encounter every day? The tool guides users toward helping the fictional characters regularise their status, meet their basic needs and build a productive and dignified life.
What is the tool?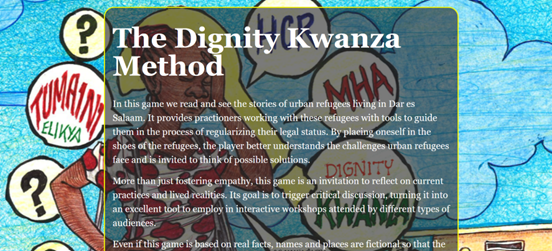 The DIGNITY Kwanza Method was created on Twine, which is a user-friendly open-source tool for telling interactive, nonlinear stories. Programming a game with Twine only requires minimal knowledge of coding.
The purpose of this tool is to sensitise practitioners to the personal, social and legal challenges that urban refugees in Dar es Salaam face daily—and how they can help. It is also a form of advocacy towards the Tanzanian government who try to deny the presence of urban refugees.
The simulation game trains users to get the 'whole picture' of each character's experience as the key to finding dignified solutions. Through vivid illustrations and fictional characters, users can see the opportunities but also limitations that most urban refugees face regularly.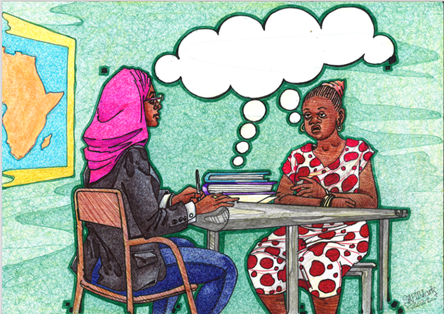 Take for example the case of Kanika Mukendi, a 24-year-old Congolese refugee living in Dar es Salaam with her two younger sisters. Mukendi finds herself without a legal permit to remain in Tanzania, is unemployed and relies on financial support from the local church to sustain herself and her sisters. She is a skilled clothes maker but is unable to get professional work in this field because she lacks legal status and helpful connections.
You are working as adivsor in the field of migration and refugee protection: What can you do? What questions should you ask Mukendi? What are your options to help her thrive and not just survive, in Tanzania?
Log on to the simulation game to find out. You can access "The Dignity Kwanza Method" here.
How can this tool be used?
This tool can be used to:
train practitioners and civil servants in the field of refugee protection to better assist urban refugees (in Tanzania and beyond).

advocate for and raise awareness of Tanzanian laws and organisations (NGOs) that support urban refugees to regularise their status.

inform refugees of connections and networks they can rely on over the long term (in Tanzania and beyond).
The tool can be used by practitioners and refugees alike, but also those with little knowledge of the refugee situation in Dar es Salaam. It allows everyone to engage in meaningful discussions and to ask pertinent questions.
It is also possible to create a story-based simulation for other country- or regional contexts. To do so, keep the following steps in mind:
Amalgamate data. The DIGNITY Kwanza Method is based on a combination of 41 interview transcripts.
Detect keywords from long interviews and establish a 'profile' of different urban refugees.
Anonymise the data (see below for more info).
Find an Open-Source platform to create a web-based simulation. The DIGNITY Kwanza Method used Twine, which is a user-friendly open-source tool for telling interactive, nonlinear stories.
Create stories. Use 'Hypertext' instead of a programming language, so minimal coding is required. Story passages (webpages) link together to form one whole story, which the user is free to navigate as they choose. See, for example, the questions in yellow text that users can choose to ask our fictional character, Mukendi.
Find a good illustrator and visualize key elements of people's own experiences.
Test, incorporate feedback and launch.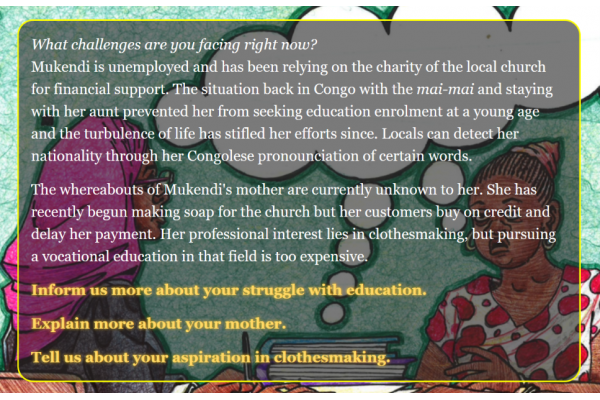 Important to bear in mind: Guaranteeing anonymity
DIGNITY Kwanza collected 41 protocols based on 41 individuals and their networks. Each protocol is based on transcript interviews, follow-up calls and visits, and other information deduced from participant observation of real people. As such, each protocol is a window to a personal story rich in details.
The first step of anonymisation was to standardise and anonymise the protocols to safeguard the identity of individuals. We did not only use pseudonyms instead of real names, but we also kept the names of locations as general as possible. These protocols are not open to the general public.
The anonymisation process was taken one step further. Inspired by creative nonfiction methods, which include interactive games such as this, each one of the three stories is a mix of facts and events described in different protocols. These facts and events are all based on real interviews, however, by mixing them to create new stories, the already anonymised identities of refugees cannot be traced. The end result is technically fiction, but it is fiction made up of a combination of real facts, hence creative nonfiction. In addition to these two anonymisation layers, and as requested by the refugees during a feedback session, place names and names of persons mentioned in the stories were all changed for more generic ones.
By going through these different layers of anonymisation, the valuable experiences of refugees can be shared in detail without putting any individual in danger. Additionally, by making qualitative data accessible in a way that respects the privacy of participants, creative nonfiction advances Open Science.
Best practices?
Test it with refugees themselves. The risk always exists that fictional stories do not resonate with the people they are about. Hold a focus group discussion or workshop with refugees and take them through the simulation. Collect their impressions, comments and update the simulation accordingly. The Dignity Kwanza- Leiden University team tested the game in a workshop in November 2021. (Read the workshop report here)

The simulation works when it is presented to and played in small groups (2 to 4 people). Follow-up with a group discussion where participants can share their impressions and ask general questions about what they learned. (Read more about the insights gathered in diverse workshop formats in TRAFIG practice note no. 12)

Create a version in the local language to make it more accessible to refugees themselves. The DIGNITY Kwanza Method simulation is also available in Swahili.
Who developed the simulation game?
Jochem Scheelings (Value Foundation & Leiden University) was the lead developer and implemented it in Twine, Angus Mol (Value Foundation & Leiden University) supported the game development, and Rashid Nyembo (Dignity Kwanza) led the integration of the simulation on the DK website. Catherina Wilson (Leiden University), Mwajabu Khalid, Janemary Ruhundwa, and Bishara Msallam (Dignity Kwanza) jointly worked on the interviews with urban refugees and their integration into 3 fictional stories that are then made available in both English and Swahili. Sapin Makengele (Atelier Nkula Nkula) created the drawings based on the refugees' stories.
For any feedback, please write to contact@trafig.eu.