#8: A Pact with the Devil? Robust Border Management and the EU's New Pact on Migration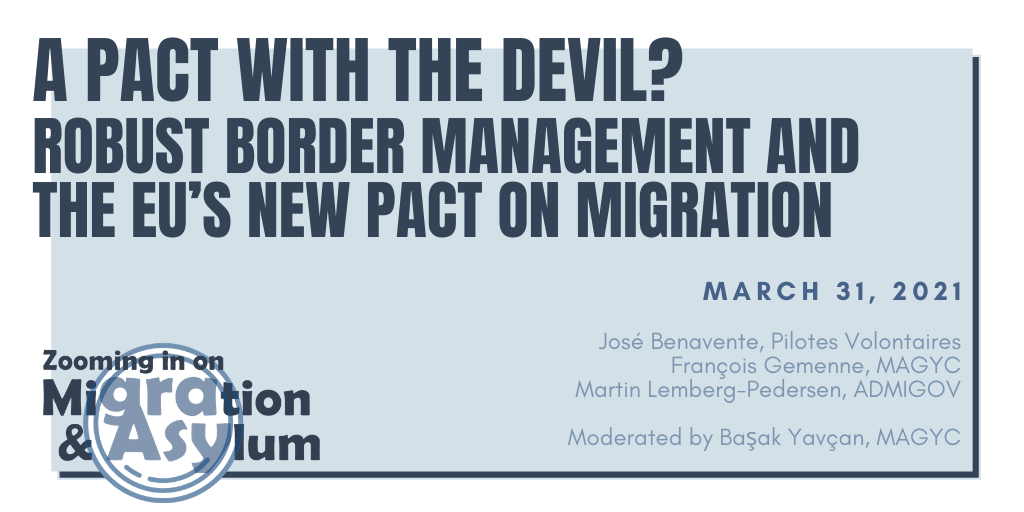 31 March 2021, 13:00-14:30 CET
Cooperation on migration and asylum has presented itself as one of the biggest policy challenges to the European Union. From Dublin Regulations to the heavy policy of externalization following the Syrian Civil War via Hotspots and readmission agreements with third countries, several policy tools have been implemented, each with their own practical and normative shortcomings. Promising a brand-new start and a logical migration management, the European Commission (EC) came up with the proposal of a New Pact, which is currently awaiting ratification in the European Parliament and Council. Offering a three pillar structure with a strong external dimension and a permanent solidarity system, the Pact targets a robust management of borders, expedited asylum processes through "fast track border procedures", and a fuller operationalization of FRONTEX, which has been operating with a visibly increased budget lately and has been facing several allegations of "pushbacks". The Pact provoked a lively debate with some calling it a rational and realistic compromise and others finding it disingenuous, potentially ineffective and in violation of human rights due to lack of an independent monitoring mechanism. This webinar will be an assessment of this border management dimension of the new pact based on the research findings from two H2020 projects MAGYC and ADMIGOV and the attestations of the NGO Pilotes Volontaires from the field, which performs aerial observations in the Mediterranean Sea to save the lives of people while crossing to Europe.
Facilitator: Migration Governance and Asylum Crises (MAGYC)
Moderation and host: Başak Yavçan, MAGYC
Panelists:
Registration
You can register for the webinar series here. You will receive a confirmation email upon registration.
Livestream and recordings
All webinars will be livestreamed via YouTube. Follow the TRAFIG YouTube channel for all past recordings and upcoming livestreams of Zooming in on Migration and Asylum.