COVID-19 and its impact on displacement situations in Pakistan
Notes on the challenges caused by COVID-19 and the pandemic's impact on displacement situations in Pakistan
By Muhammad Mudassar Javed, SHARP Pakistan
The number of COVID-19 cases in Pakistan continues to grow. The total number reached 10,513 as of 23 April 2020, with 224 deaths. In urban areas, 3 registered Afghan refugees (02 in Peshawar and 01 in Mardan) have died. Arrest and detention of refugees has marginally decreased but issues related to livelihood opportunities are putting refugees at more risk as they are constantly asking for cash/food assistance. With the help of individual donors and well-off refugee community members, the SHARP team is assisting them by distributing food items.
On 14 April 2020, the general lockdown was extended for another two weeks until 30 April 2020. Flights as well as intra- and inter-city public transportation remained suspended. However, some sectors, including agriculture, construction and small businesses, such as barbers, electricians and plumbers, were allowed to resume their economic activities. The Government of Pakistan has started disbursing cash assistance to some 12 million families through the BISP/Ehsaas emergency cash program. Families will receive a total of Rs.12,000 (approximately $73) to help meet their most urgent needs during a period of four months.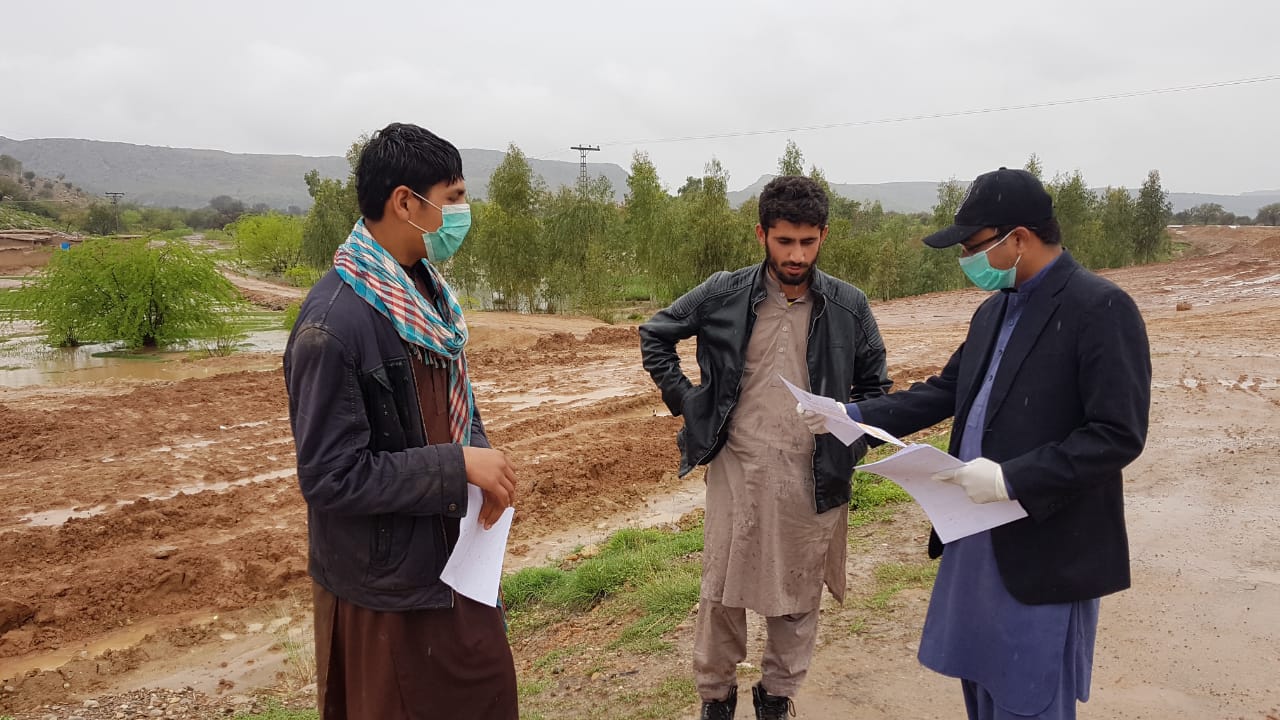 Photo: Muhammad Mudassar Javed/ SHARP Pakistan
Between 6 and 9 April 2020, the Torkham and Chaman borders were temporarily reopened. Tens of thousands of Afghan nationals crossed over to Afghanistan with very limited immigration control or respect for social distancing. In order to facilitate the movement of goods to landlocked Afghanistan, the Government of Pakistan allowed the movement of cargo to Afghanistan from 10 April 2020. The trucks will operate three days a week. The movement of people remains suspended.
As part of a coordinated response, the National Disaster Management Authority requested the activation of specific sectors including Health, Food Security, WASH, Nutrition, Logistics, Emergency Communication, and Women and Children Protection. The draft Coordination Framework, including sector leads, is currently being discussed between the United Nations and the Government of Pakistan. UNHCR along with its partners (such as SHARP) as lead has started to collect data of the most vulnerable refugees for cash based interventions in which initially nearly 35 thousands families will be supported.
The views and opinions expressed in this blog do not necessarily reflect the opinion of the TRAFIG Consortium or the European Commission (EC). TRAFIG is not responsible for any use that may be made of the information contained therein.